Pofessional Estate Agency: different in Real Estate!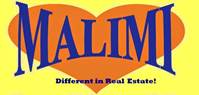 Welcome to our Home Page! How and where to start your search to find your "perfect home", it is often a question people ask themselves. This guide will serve you useful information before coming to Spain to look for yourself, in order to make sure you are fully prepared before deciding a purchase. Our main challenge remains from start is to ensure your satisfaction and preserving your peace of mind! Brokerage, no matter regarding Real Estate, Insurances or Additional services, it is almost impossible to offer the best solution without a solid professional knowledge. Malimi Costa Blanca has more to offer than a simple agency!

Real Estate & Insurances served with a positive attitude, covering all aspects of residential property sales is established on a short distance from both airports Alicante and Murcia, Mediterranean sea and large sandy beaches. Regarding your total property requirements, it is important to take note of it before assisting on a professional manner at all times, We will work hard to find the perfect solution, listen carefully to all your needs, and provide safe advice from start to finish.This is the only way to ensure you the best possible choise. Our continuing aim is to treat both potential buyers and sellers the way we would like to be treated ourselves. Our firm may be proud being one of the first class "Agentes Profesionales Inmobiliarios´ graduated with an A.P.I. qualification. We know our way of working is something really different from the rest , caused by unique vision of providing services "with a heart !", along with a range of After-sales services, specially designed to offer the best.
The Spanish property sector is still very consolidated and still represents a save and profitable investment. Purchasing a property with as purpose ´buy-to-let´ investment also is growing in popularity. Without a doubt, an important confirmation of the return on real estate investments! The first purchase of younger "first-time-buyers", in many cases they are able to buy a property at prices compared with those in their own country as "falling out" of the market. Renting or buying a Spanish property could be an ideal way to get onto the property ladder and starting to build capital. Some pensioners, searching for an interesting investment opportunity do have more freedom to use their pensions as they wish, also including cashing them in as a lump sum, leads to investments with stronger returns than annuities or bonds at the bank.

Unique Malimi service: You have not found anything in our current offer? We are pleased to inform you of new properties that are for sale or for rent. Sign up for it by e-mail or attached form with all your details. We hope to answer you as soon as possible with the best suitable property.
Our After-sales services stands out for two reasons. First, because of a permanent professional assistance in your own language during purchasing a home, and our specialized support taken to heart by our expert "Técnico en Gestion Inmobiliaria". You can count on our additional services such as an affordable stay during your inspectiontrip, preparing your budget, by renting out your property, or legal specialties.
A total insurance package and financial services like a mortgage application, opening a bank account or house insurance are part of our services and taken to heart by our profesionnal Insurance and Credit Broker. Home-services & Home-care such as renovations, painting or repairs to aregular cleaning service or property maintenance by our qualified collaborators will be guaranteed by an optimal service.
The advantage for our unique Malimi offer ´24h/24h Medical Assistance´, during your stay or holiday rental, is still available.